Welcome To Newton Abbot Art Group
TO ALL MEMBERS:
COVID-19 Escalation. SUSPENSION OF NAAG ACTIVITIES
Having listened to the latest advice from the Government, the basic recommendation states that Non-essential Contact should be avoided, including social events. This particularly applies to over 70's, and those with underlying health issues and those who have developed persistent coughs and/or fever. The theory is that this will reduce the speed of the spread.
There does not appear to be enforced self-isolation at this stage, even for the over 70's.
However, we have to react decisively and responsibly, even if our decision may be unpopular.
Therefore, with immediate effect, the Thursday and Friday sessions are cancelled, commencing with this week's sessions.
If we are to accept government forecasts that the crisis will escalate very quickly then immediate action is required. The closure is likely to be for a period of 12 weeks, minimum. This will include postponing Jayne Farleigh's Workshop and any future workshops until the autumn at the earliest. Some members may be disappointed but I suspect attendance would be reduced, and it may not be financially viable, apart from the health issues which are of primary concern. I believe that this in the general interests of our members, most of whom are over 70, and it relieves us of any responsibility of an outbreak being traced to one of our sessions. Equally, the AGM will have to be postponed. Once the crisis has passed and we are confident that our weekly sessions can continue, the AGM will be rearranged for the 2nd or 3rdweek after we return.
Irene will continue to maintain the financial records during this period although most transactions will dry up over this time. We have sufficient funds should expenditure exceed income during the time of closure. We will contact the Teignbridge District Scouts Official and hopefully arrange a mutually acceptable suspended payment for the room rental. The committee will continue to function as required.
I will continue as Chairman during this period up to the rearranged AGM, possibly in July. I will also initiate an occasional newsletter for members to keep them in touch regarding COVID-19, but also any news relevant to NAAG or individual members.
It is regretful that this action has been necessary, but we have a duty of care to all members (including ourselves).
I hope you all stay healthy and look forward to happier times. Best Wishes to you all.
Bryan Hill
NAAG Chairman
---

Formed in 1973, NAAG is a local art group recently celebrated its 46 year anniversary.
We are a friendly club whose aim is to support & encourage individual development in the practice of art in a variety of media.
Everyone is welcome to join our group, irrespective of age, ability and experience. Whether a complete beginner, an improver, or have many years of practice, there are always new & exciting challenges in the world of art.
Our weekly studio sessions provide an opportunity to get together & practice art, being both social and learning occasions.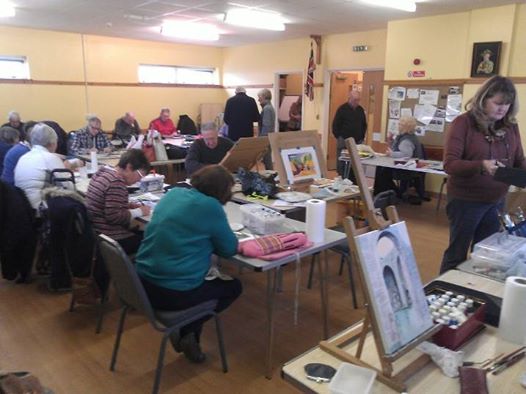 Please explore our site to find out more about our group and the opportunities offered. You will be most welcome to attend any of our events.
Please visit our membership fees pages if you are interested in joining us. Our 2019 brochure can now be downloaded.
See the Calendar and News pages for details of what is happening.
We now have limited availablity forThursday afternoon and Friday morning sessions, so come along and join in or contact us for futher information